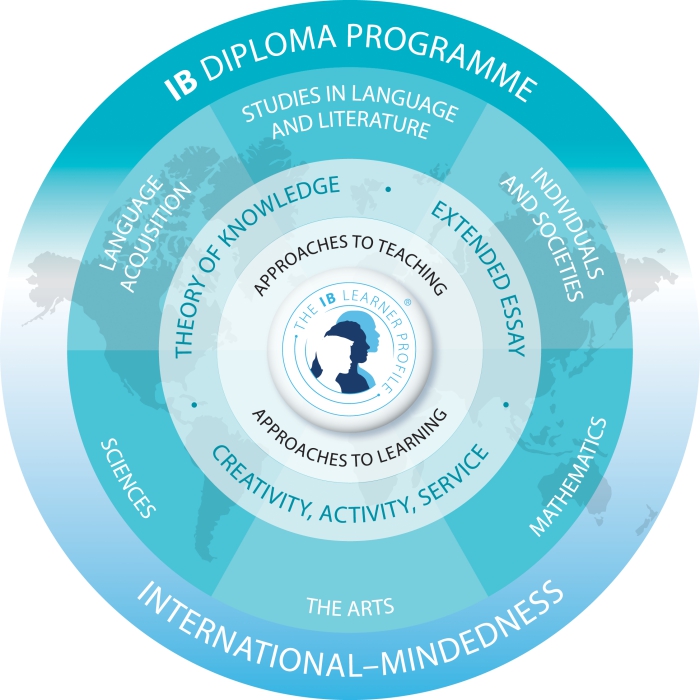 We're happy you are interested in an IB education at Del Mar High School!
Click below links for important documents providing detailed IB information for you and your family.
IB at Del Mar High School
IBO Information
The IB Mission -

The International Baccalaureate (IB) aims to develop inquiring, knowledgeable and caring young people who help to create a better and more peaceful world through intercultural understanding and respect.

Learn more...
An IB Education - An IB education provides opportunities to develop both disciplinary and interdisciplinary understanding that meet rigorous standards set by institutions of higher learning around the world. Learn more...
The IB Diploma Programme - Interdisciplinary DP courses and requirements offer students ways to explore new issues and understanding that reach across subjects. Learn more...
CAS (Creativity, Activity and Service) - The CAS project which challenges students to show initiative, demonstrate perseverance, develop skills such as collaboration, problem solving and decision making. Learn more...
Theory of Knowledge - Provides

an opportunity for students to reflect on the nature of knowledge, and on how we know what we claim to know.

Learn more...
Extended Essay - A

n independent, self-directed piece of research, where students investigate a topic of special interest to them, which is also related to one of the student's six Diploma Programme subjects.

Learn more...
Enriching / Related Academics at Del Mar High School
International Association of French Students - Coming Soon!
Archives
For further information and questions, please contact Jessica Olamit, Del Mar's IB Coordinator.